The viralProtect protective mask with Livinguard® technology is the only protective mask with proven self-disinfecting effect.* Conventional masks cannot deactivate bacteria, viruses and fungi and therefore do not offer the comprehensive protection as the reliable viralProtect 7-month protective mask.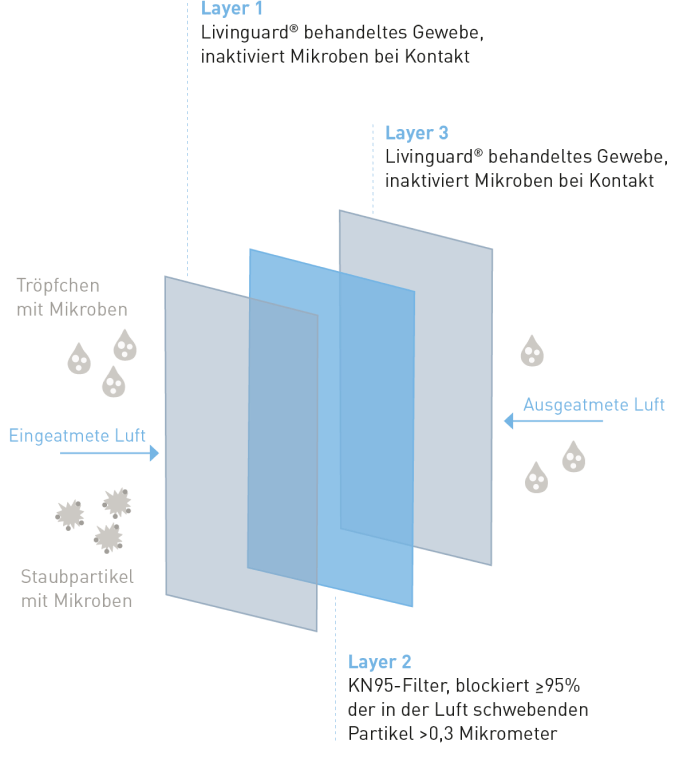 Patentierte
Swiss technology

The three-layer filter of the viralProtect mask, with patented technology of Livinguard® from Switzerland, offers reliable self and foreign protection - without silver or other harmful chemicals.
The Livinguard® technology of the viralProtect protective mask was successfully tested according to U.S. EPA standards with regard to its "self-disinfecting" properties. Only Livinguard® textiles can continuously inactivate microbes.
Das Livinguard®-Textil der viralProtect Schutzmaske hat umfangreiche Hauttests in den Product Safety Labs in den USA nach Anforderungen der US-EPA und an den Hohenstein Instituten in Deutschland nach europäischen Normen bestanden.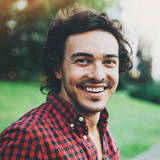 Excellent product! The viralProtect mask does not become unpleasant even when worn for a longer period of time. The fit is good and can be individually adjusted by the nose clip.

Mit der Maske fühle ich mich viel sicherer als mit einer anderen. Auch meinen Mann habe ich davon überzeugt. Die Lieferung erfolgte schnell.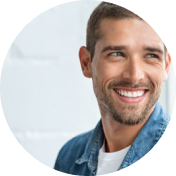 The mask is easy to clean and can be used for seven months. Super value for money!

Your heading text goes here*Getestet nach U.S. EPA Standards hinsichtlich selbstdesinfizierenden Eigenschaften und Hautverträglichkeit**Für detailliertere Informationen und Testergebnisse kontaktieren Sie uns.
Super Maske, nur weißes Innenteil ist ungünstig
Die Maske ist super, ich fühle mich safe und bin umweltbewusst.
Einzig die weiße Innenseite ist nicht gut, weil ja nicht mit Waschmittel und nur mit max
30 °C warmen Wasser gereinigt werden darf.
Auch wären helle Farben für sonnige Sommertage prima....
Sehr gute Maske!
Ich benutzte nur noch diese Maske und fühle mich damit sicherer als mit den FFP2 Masken. Bisher die einzige Maske, die bei mir wirklich an allen Seiten sowie oben und unten dicht sitzt. Zudem ist sie auch angenehmer zu tragen als Einmalmasken. Da ich in Bayern wohne insgesamt billiger als 7 Monate lang FFP2 Masken zu kaufen und besser für die Umwelt. Ich werde mir die Maske nachkaufen wenn ich wieder eine brauche und kann sie nur empfehlen. Da sie noch relativ unbekannt ist, habe ich immer einen Beweis dabei dass es sich um eine KN95 Maske handelt.
Sehr gute Maske
Die Maske sitzt sehr gut und ich trage sie beruflich den ganzen Tag, habe nur immer wieder das Problem das man diese Art der Maske nicht so kennt, habe aber immer das Begleitschreiben mit dabei um die die Menschen die mich fragen aufzuklären, dieses passiert hauptsächlich in Supermärkten und ich fühle mich mit dieser Art der Maske auch sicherer dadurch das man sie auch waschen kann. Sie kostet zwar etwas mehr als diese Einmalmasken aber ich habe von denen schon genug in der Umwelt liegen sehen.
Tolle Maske!
Die Maske trägt sich super: sitzt gut, trägt sich auch länger angenehm und ich kann gut atmen. Außerdem kann ich Maske waschen und verursache nicht so viel Müll.
Super Maske!
Toller Tragekomfort. Ich habe meine Maske immer dabei und fühle mich damit sicherer als nur mit Einmalmasken.
*Test erfolgte nach DIN EN ISO 18184:2019
**Getestet nach U.S. EPA Standards hinsichtlich selbstdesinfizierenden Eigenschaften und Hautverträglichkeit.
***For more detailed information and test results please contact us.
****Bei täglicher Nutzung und einmal wöchentlichem Waschen.